FOR INDUSTRIAL THREAD (Embroidery Yarn)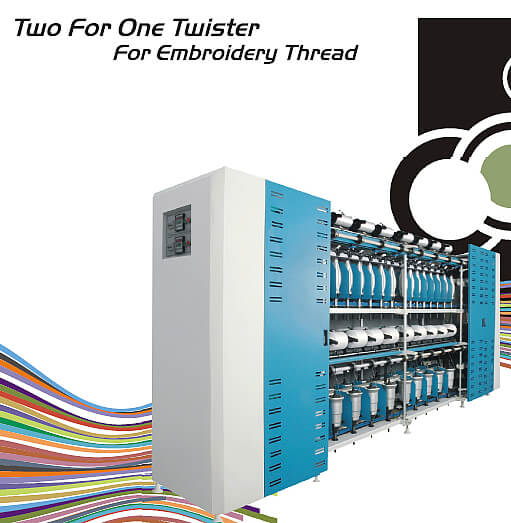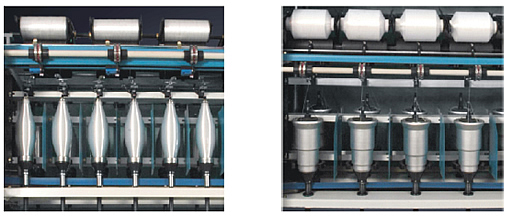 Salient features
For all kind of S & Z Twist.
Machine construction offers long lasting maintenance free performance.
Operating panel with motor protecting devices & smooth start.
Rational design of the gearbox permits ideal take-up. The driving parts are automatically lubricated by the oil pump for optimum performance.
Low power consumption.
Yarn Sensors avoids single ply with the help of cutter.
Technical Specification: Two for One Twister ( Embroidery Thread )
| Machine Type | Double Sides Double Layer |
| --- | --- |
| Spindle RPM | 4000-12000 |
| Spindle Drive System | Tangential Belt |
| Twist Range | 150-1200 |
| Machine Width | 800mm |
| Machine Height | 2000mm |
| Start Mode | Slow Start Star-Delta |
Primary Stage
Model No.
EM1-90
EM2-90
EM3-110
No Of Spindles
208/224/240
Spindle Gauge in mm.
160
Pot Dia in mm.
70
Denier Range
50-150
Installed Power in H.P.
5HP
Supply Package in mm
Take-up Package in mm
EM1-90
EM2-90
EM3-110
EM1-90
EM2-90
EM3-110
Secondary Stage
Model No.
EM1-90
EM-90
EM3-110
No Of Spindles
156/168/180
130/140/150
Spindle Gauge in mm.
215
260
Pot Dia in mm.
90
110
Denier Range
50-300
Installed Power in H.P.
7.5HP
Supply Package in mm
Take-up Package in mm
EM1-90
EM2-90
EM3-110
EM1-90
EM2-90
EM3-110
Machine Dimension

Request A Quote