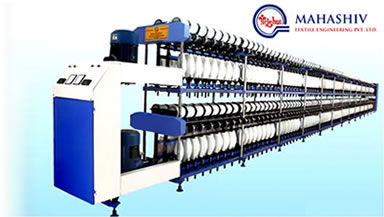 Mahashiv Textile Engineering Pvt. Ltd. is a leading Textile Machinery Manufacturer and Exporters in operation since 1985. Mahashiv Textile Engineering Pvt. Ltd. has come a long way and today takes pride in its position as a prime manufacturer of Textile Machinery in India. Our range of machinery includes TFO MACHINE, SPUN TFO, TWO FOR ONE TWISTER, COTTON TFO, JARI COVERING, SZ COVERING, and more. Our company is committed to providing the best quality textile machinery at optimal prices to its ever-expanding potentials.
The company diligently puts in the effort to fulfill the vision of its promoter, Mr. Pravin Asodia, of delivering the best to its customers. The company also prides itself in its young entrepreneurial spirit Mr. Nandish Asodia whose astute understanding of various engineering aspects of Textile Machinery and leadership qualities makes it possible for our competent team to progress.
We sincerely believe that in industrial production, reliability is paramount in addition to performance. Our machines are highly reliable and functional, leading to satisfaction for our customers. Our first machines delivered 15 years ago are still in daily operation, as are the hundreds of machines delivered since. We provide our expert services for installation, commissioning, and operator training — turn-key training services to ensure maximum efficiency in production.
Our steady growth and expansion have made it possible to add to our production facility. We are in the advanced stages of planning to establish our fourth manufacturing plant at Udhna, an industrial estate in Surat, Gujarat, India.
Mahashiv Textile Engineering Pvt. Ltd. caters to a wide range of clients, both domestic and international. We take pride in our extensive network comprising over 500 installations in various textile centers of India. Our textile machinery is installed in textile hubs, such as Surat, Bhiwandi, Bangalore, Hyderabad, and various other textile centers of Maharashtra, Andhra Pradesh, and Gujarat. Due to our strong commitment to clients, we have reached great heights in this industry.
Along with our production facility, we also offer the best in terms of support and assistance to all our clients. Our service department is prompt to reply to queries and provide expert technical solutions/ services. We are also the leading importers of Chinese Waterjet Looms and Rapier Looms.
In all aspects, we focus on delivering innovative technology and solutions at cost-effective values.